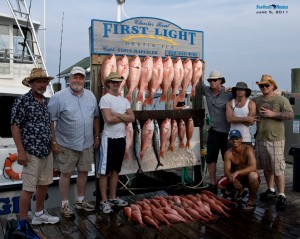 January has been a good month for fishing but with the holiday season finally passed, now it is time to focus on preparing for the upcoming 2015 charter boat fishing season. Lots of attention and care goes into preparation, in order to ensure we will have a fruitful fishing season. First things first, the boats have to be taken to the dry docks in order to get the process started.
Dry docks are used to make the maintenance and repair of the charter boat easier. Once the boats are in the dry dock, they must then be cleaned; hull inspection, barnacles must be scraped off, and the propellers must be polished including the running gear. Then there's a little wax on, wax off to make the boat shine and look like new.
Great Fishing On The Horizon
Whether you are a novice fisherman or a part of a group of avid fisherman, Destin, Florida has an abundance of fish to choose from. If you prefer to start out the year bottom fishing there is Red Snapper, Grouper, Amberjack, Scamp, and Triggerfish to plan for. April will bring the fisherman's delight, Cobia fishing.
If you prefer inshore fishing – King Mackerel, Spanish Mackerel, Bonito, and Blackfin Tuna just to name a few. Blue Marlin, White Marlin, Sailfish, Swordfish, and Yellowfin Tuna are all great offshore and deep water trolling fish you can set out to fish for, but they are not always easy to find.
Charter Boat First Light gives you a variety of tours to reel in your ideal, sport fish and explore Florida's amazingly beautiful waters during any fishing season. For more information and questions about the charter rates, contact us at Charter Boat First Light today!